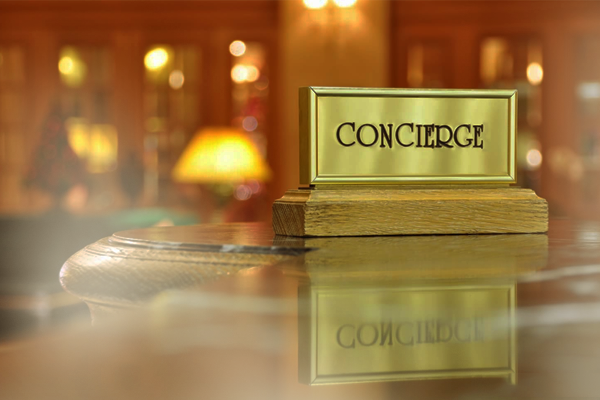 Have you always been fascinated by the bespectacled young lady sitting pretty right at the hotel's lobby and forever smiling and making small talk to guests? Have you ever wondered if she never gets tired taking those incessant calls? Or how come she never loses her cool even when guests demand the sun, moon and earth for all their hard-earned money's worth?
Well, in common parlance, we call hers a receptionist's job. In the hospitality industry, however, she's technically managing the concierge desk. So to say, the concierge desk performs the entire paraphernalia of tasks that are beyond the ambit of the services offered by the hotel. In other words, the lady behind the concierge desk is responsible for providing comfort that lies beyond the scope of the hotel staff's work like arranging for sightseeing tours, organising surprise parties at another hotel etc.
However, you'll need to keep in mind that appearances are deceptive. For behind all those firm handshakes, effervescent smiles, immaculate make-up and immaculate dressing sense lies a girl just like you! So, to cut a long story short, you really can be managing the concierge desk at any reputed Seven-Star hotel.
But, please remember that it's indeed a challenging role and demands truckloads of multitasking skills. For, your duties at the concierge desk will include, but not be limited to, seemingly doable stuff like making reservations (at restaurants, other hotels, spas etc.), arranging transportation, currency exchange, procuring tickets (for activities such as sightseeing, pub crawling etc.) arranging porter and courier services as also any other assistance that the guest might require from time to time. And, this time knows no sacrosanct limits or curfews especially when it comes to guests on vacation. So, please don't get hassled if you get a call at 4am requesting a cab at 430am just so that they can experience the cityscape awash in the supple glow of the rising sun.
For, corporate or business travellers who are presumably in the company of their colleagues will usually stick to company guidelines on appropriate hotel behaviour. Also, considering that these business travellers might have an early morning flight to catch or a late-night conference call to make, it's a good idea for you, as a concierge desk manager, to enquire after their needs.
So, if you're wondering what skill sets go into the making of a good concierge desk manager, a quick check list would be – oodles of patience (required to keep your cool with eccentric guests), excellent leadership & coordination skills to get things done from an entire entourage including both internal and external parties, multi-tasking skills to ensure you can handle several requests at a time, the ability to say 'no' to absurd requests (like exotic or banned meats) and most importantly, great communication skills to ensure that you don't mess up the tasks at hand. Also, taking notes or using the voice recorder is a good idea to avoid unnecessary complications.
In other words, you need to be extremely well-networked so as to be able to procure anything that the guest might require. And this will, in all likelihood, include a pregnant guest's weird late night cravings or a drunk guest's antics too!
Don't baulk! Things aren't that ugly too and the above two examples, though just invoked in jest, are possibilities many people who manage concierge desks have reported! The most common requests however are provision of room service, extension of check-out times and keeping luggage in cloak rooms after check out. This might be because the honeymooning couple wants to indulge in some last minute retail therapy or selfie sessions, before taking the cab to the airport.
And while it's all well that they've checked out, your role doesn't end until after they've plonked themselves on their leather sofas back home! Yes, you guessed it right – you'll have to arrange the transportation to take them to the market, selfie spots and to the airport too. And just before you say 'phew', let's tell you that your duty is far from over. In fact, as a good concierge desk person, you'll have to call the couple intermittently to check their progress on the journey to ask whether – they're missing any item of their luggage, they're done with their check-in, are comfortably seated, have de-planed, and, finally, have reached home – which is when you must thank them and invite them back too!
So, if you've decided to pick the job of a trainee concierge desk manager, over the various options you had during the campus placements at your prestigious Blue Whale Academy, go right ahead and take it up! It'll surely keep you on your nimble feet and be a great learning curve too!