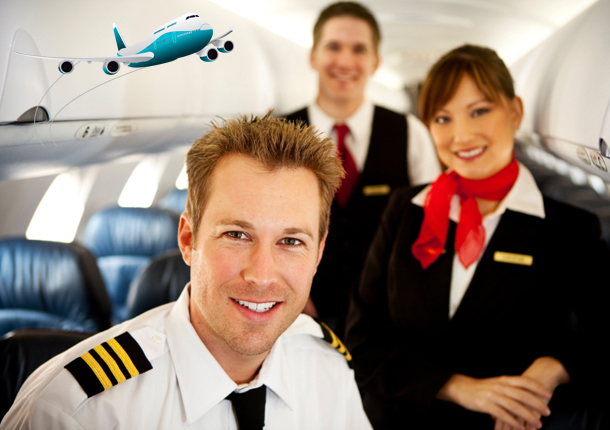 Assuming that at one of the various campus interviews held at Blue Whale Academy, you are offered the job of a flight crew for a reputed foreign airline. And supposing you have taken it up, after very carefully scrutinising the offer letter and signing it as a gesture of acceptance, here's all the dope on the prep you'd compulsorily need before taking off.
Since it's an international airline, they will have stringent background checks. So make sure that the contacts you share as references on your CV/job application form (in all likelihood your college teachers assuming you are a fresh graduate) are informed well in advance and a convenient time slot booked for them when the HR might call them. No teacher likes being called during lectures and we're sure yours is no exception too. Also, give them all the dope on your selection process and expectations so that they don't appear thunderstruck when the HR calls.
Again, nowadays, all international airlines mandate swimming as a compulsory requirement for flight crew. Even if they didn't ask you to swim at the interview, which wasn't at the beach anyway, chances are there that as part of the induction, there'll be a poolside/beach party for freshmen to meet and interact – a nice way to test how well you take to water. If you've lied through the interview, you'll be caught unless you've learnt swimming in the interim period between the interview and actual joining, which mightn't be possible for everyone. For it is widely speculated that fire signs like Leo take to water less easily than water signs like Cancer. So, remember, lying is never a good idea, least of all at an interview. So, if knowing how to swim is mandatory, go ahead and learn before you apply. At least don't hide it. For all you know, if they like you otherwise, they might teach you swimming at the induction level before you actually start flying.
Then comes the very potent issue of dealing with transcontinental time zones. You'd do very well to remind yourself that your body is after all a machine with a mind of its own. A mind that very often tends to be mindless when disturbed or tampered with. One of the commonest issues international flight crews face is the issue of juggling multiple time zones. Thus, it is very important to train your mind and body by adopting holistic health practices complete with balanced diets, healthy habits and six to eight hours of sound uninterrupted and peaceful sleep. This is so because like the plane you shall shortly board to reach your work destination, and the many flights you will routinely board subsequently as your career progresses, your body too is a machine. As any doctor will tell you willingly, sleep is nothing but the body's time to be grounded and refuelled so as to take on another day. It is a misconception that the body stops functioning during sleep. If that was the case, how'd you be breathing? That's the circulatory system at work, for starters. Plus, there's the digestive, nervous and all other systems that are in fact working along in tandem so as to recharge your batteries. A good night's sleep, as Nature has told us very clearly through birds and bees, is very healthy and essential. What is it that they say about being early to bed or and early to rise awarding wisdom or something such?
In a similar fashion, your body needs to be sleep-trained by opting to sleep and wake up as per the country you are flying to. This can be very easily done by logging on to the internet and looking up local times at your destination city and adjusting your clocks accordingly. This is to be followed by trying to sleep at and wake up at the host city's timings at least a fortnight prior to flying rather than plunge into it only after you land in your hotel suite jet-lagged and weary.
Also, familiarise yourself with your destination's cultural milieu for some cultural shock absorption padding. This is to say, for instance, if your base city is the exotic Middle-Eastern city of Abu Dhabi, where all the girls headed for Sex and the City 2, please note that they work on Sundays and Fridays and Saturdays usually serve as weekly holidays unlike India. Also, you might opt for religion-specific holidays like choosing to work during Eid while opting for compensatory offs during Christmas and New Year holidays.
Also, researching the place's quirks and eccentricities, food practices, laws, acceptable and non-acceptable public behaviour, dress codes, traffic rules, ethics and morals on the Internet is a good idea rather than fall flat on our face when we encounter spatial oddities first hand upon reaching the destination.
Again, avoid drinking pre-boarding or during the flight. Liquors are very dehydrating and you never want to start a career with a mid-air crisis! Plus a drink too many can put you off guard to reveal a side of your personality that can only be acceptable to your dearest relatives and friends.
Also, true even at 40,000 feet above the ground – drink only after a heavy meal, never mix spirits and keep sipping water and nibbling on cheeses and nuts.
Drink if you absolutely must, or your future colleagues insist on raising a toast to you – but leave it at that. They aren't allowed to drink on duty as it is. So mock raise a symbolic glass and clink it too, but try not to plunge into it with gusto. The flight crew isn't your friend yet. And this could be staged under instructions from the higher ups. Plus, aren't there cameras in-flight?
Plus, you'll mostly be flying the carrier you'll take up work for and there are in-flight attendants who are monitoring your every move and reporting it to the minutest details. Don't get spooked but even drab details like your posture and body language, interaction with co-passengers, communication with the flight crew, choice of in-flight content, handling of in-flight materials like quilts and magazines, table manners, adherence to safety instructions and even toilet etiquette is being closely monitored.
So, start shopping for essentials – multi-socket adaptors, warm clothes et al – and start packing your bags. Always carry a book, essential toiletries and allowed weight only. Remember to not take a lot of fluids, never take inflammable or contraband stuff or liquor. Also, there are declaration and VISA formalities to be completed on arrival. Always be truthful in your responses as the city shall treat you the way you treat the city.
So, have a great flight!
PS: This is an unabashedly indicative list