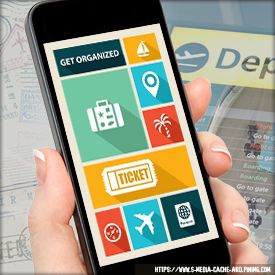 Continuing our discussion on rocking start-up ideas in travel and hospitality, before we go on the ideas per se, wouldn't it be worth our while to ponder for a while on allied career paths that you might take after graduating from the prestigious Blue Whale Academy. Confused? We'll tell you a story that'll most likely help you understand better.
Take for instance, Anthony Bourdain's or Samantha Brown's jobs. Do you think both of these supremely successful travel-show hosts have travel degree under their belts? And we're not talking of honorary degrees that various academic institutes have conferred on them. Just a cursory skim through Wikipedia will tell you that these people are just plain hardworking chaps who eked out a supposedly cushy life on – guess what – their communication skills and affability alone! So yes, we're suggesting you can take up an allied career like travel media – don't restrict yourself by the medium but go the whole hog with TV, radio, print, web and social media. But remember, it's very competitive and you might not mint money from day one. So, please be patient! And also be prepared for the grime and the smoke that travel entails, as well as inclement weather and your body's reactions to conflicting time zones. It's not all about tasting exotic ales & dining at thrilling live barbecues.
Moving on to innovative start-up ideas, there's the sterling case of Lyft – the cab rental service that unlike its rival Uber enables ordinary people become cabbies and then puts them across to passengers who require rides! So to say, imagine that you're driving back from office and decide to ferry someone to a place that lies on the way. You post on the Lyft app that you're travelling on say, the Jogeshwari-Vikhroli-Link-Road to Powai from Goregaon East. This update immediately goes up along with your location details to other users and the user closest to you hitches a paid-ride to Poonam Nagar, Andheri East that's on the way! In other words, you don't need to don a cabbie's uniform, nor go out of your way to earn money – just go with your flow and make money while at it!
Then, take the unique case of two very elemental – yes, maybe, but that much more necessary and ubiquitous apps – WeatherSphere and Peek. WeatherSphere, no prizes for guessing, helps avid travellers negotiate the inclemencies of weather so that the fury of Nature never plays spoilsport in one's travel plans. Just ask travel aficionados how relevant real-time weather updates are and you shall know just how important a need gap WeatherSphere fills in. Coming to Peek, the app is experiential in the sense that it awards a guided-tour-like experience to its users. And unlike the dime a dozen websites that provide luscious photographs and location reviews, this app by Ruzwana Bashir also employs testimonials by big names to build credibility so genuine that even established players like Disneyland are willing to pay it a 15-20% commission from sales that happen through it's platform!
And if you always were this grumpy air traveller who managed to find fault with everything from seat reclining angles to food freshness, to heck even the air-hostess' chipped nail paint, worry not, there's help for you too! The name's Tensator – an obvious portmanteau for technical translator. Simply put, these are multi-lingual HD holograms that attempt to enhance ease of travel by answering passengers' questions about security, flight and gate locations, and airport navigation and in a manner that has been reported to be more affable and knowledgeable than regular ground crew. Currently on a pilot in Dubai International, Washington Dulles, and Boston's Logan International airports, they';re so popular as to already solicit coveted epithets like 'employee of the future'.
Further, there's the absolutely delightful Scottevest – a travel garments' retailer that prides itself in making travel wear that is fun and functional at the same time. They claim to make "travel clothes with special pockets designed to let you take everything with you". In other words, they have special pouches/compartments for your mobile, Kindle and other portable devices all sewn in with your travel clothes. Interesting, isn't it?
To conclude, we return to an app promising a service much like what we began this series with, HotelTonight. This app's product differentiator is that it helps you make last-minute hotel room bookings without burning a hole in your pocket.