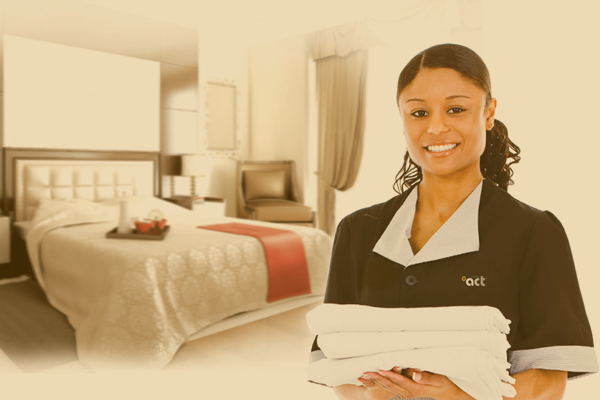 It's campus placement season at your prestigious Blue Whale Academy and you've landed your share of offers too. After very carefully scrutinising each and every offer and aligning it with your personal interests and career goals, you have decided to take up the offer that's closest to your heart – housekeeping specialist at the city's most famous five star. Apart from being the closest to your dream job, this offer comes with a host of advantages like – proximity (in other words, the hotel is close to your home) and the freedom to opt for a shift of your choice and most importantly good work incentives.
However, when you actually commence work there, things might not exactly be the cakewalk you imagined they would. But worry not, we'll get you sorted.
First things first – you'd do well to remember that all that your textbooks told you were meant to be used in conjunct with on-ground realities. So to say, on the job, your absolute and lone focus should be in doing things in the quickest and easiest possible manner rather than try to align it to some theory you've learnt as a student. In other words, your textual learning must provide only a broad framework that you must refer to only if you absolutely must, and definitely in the spirit, not in the letter or verbatim!
Since managing the semi-literate housekeeping staff can be quite a challenging staff as one often has to negotiate language barriers too, please remember that it's never a good idea to shout at people or boss around. Be a firm, not a nasty boss by treating every person who's not in as fortunate a position as you as you'd like your higher-ups to treat you.
Also, housekeeping is often an extremely challenging and thankless job which you can turn around by being meticulous and stringent to details like very quick turnaround times to clear, for instance, stinky rooms after a wild party given that there's usually only around two hours between check out and check in times. Or reacting to weather-infused or natural situations like damp smells in monsoons or termite/bedbug attacks in summers especially if the room hasn't really been in circulation for a long-ish time.
As housekeeping is both an internal and guest-facing role, you'll have to juggle a lot of hats and pacify a lot of frayed nerves. In other words, please remember that you will be responsible for ensuring the routine upkeep and maintenance of the hotel's property including lobbies, conference halls, restaurants, kitchens, washrooms, internal offices and most importantly, guest rooms.
And just in case you assumed that managing housekeeping is a back-end job, please wake up! You just cannot expect to be done after your staff has done their daily wiping and cleaning job. For, there'll be boisterous kids out on a mission to ruin all food in sight, their mom's who'll spill wine and daintily trip over the mop to accuse the hotel staff of hiring untrained staff and the kids' dads will most surely join in their football, smashing a few vases on the way to the goalpost, which FYI happens to be the layered glass giant teak side table, a favourite with the promoters of the hotel. So, despite the fact that the hotel management will surely have some rules in place, guests usually don't think twice before flouting them. So, if the kids are running around, politely but firmly ask the parents to take charge of them.
The worst guests are mostly those who come on one offs like office conferences, weddings, parties and the like. Since they do not have any intention to strike up a long-term relationship with this particular hotel, they'll most-often not care before spilling, smashing and indulging in unacceptable behaviour in public.
Also, please remember that the bar area is the most-susceptible to damages as it's a universal human tendency to drink far beyond one's capacity and then get garrulous, boisterous, quarrelsome and destructive – in that order. Also, people tend to drink till tipping point and then usually throw up.
Yes, don't cringe, though not you, but your staff will have to clear that up too. But rest assured, it's nothing too grossly close for comfort – after all, starred hotels are so priced because they employ the latest in cleaning technology and manual scavenging is just not an option!
Again, please note that you can never get away with the excuse that your uniform is stained thanks to the nature of your job. At a seven star, right from the usher to the valet, everyone is expected to be prim and proper, no matter what time of the twenty-four hour day it is. You'll usually have a lot of spare uniforms – use them rather than turn up in smelly wrinkled clothes that are so very revolting to the human senses. So, please be a little OCD about hygiene as no-one like to be referred to as 'the stinky unkempt guy'!
And please remember, you're never fully dressed unless you've worn a smile!