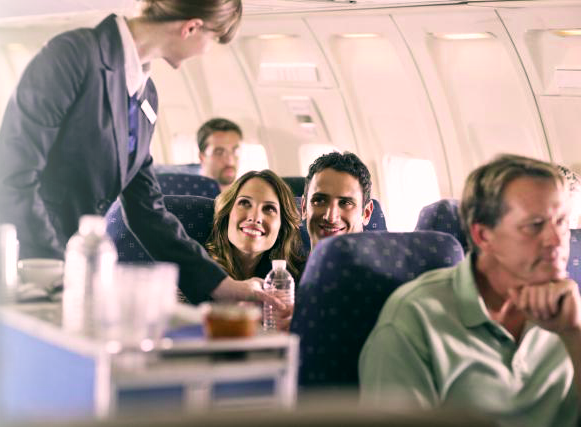 Presuming that after you've graduated from your prestigious Blue Whale Academy, you are offered the job of a cabin crew with a leading international airline, isn't it worthwhile to ponder as to what's it that you can expect while on the job? Well, to put it very mildly, every airline is different, so there's always that bit of permutation & combination that you'll have to do as you negotiate your own job. That said, by its very nature of being part of the holiday industry, there are certain universal criteria that one needs to adhere to. For instance, in general, you need to pay particular attention to
Grooming – You must be absolutely well-groomed and shining from head to toe! Yes, appearances do matter and since you are in a guest-facing role, you cannot afford to be sloppy at all. So dear ladies, please ensure that your skirts, blouses & other dresses are the right/recommended size & length, your eyebrows are well-done, you get regular pedicures & manicures done and your nail paint isn't chipped & your lips aren't chapped. As far as men are concerned, remember that suits only look good on men who stride about confidently rather than slouch. Also, get those ties matched to your suits & ensure that you never wear open/dirty footwear. Also, both genders must take regular breaks to groom themselves – use mouth wash, take a quick shower, dust shoes or simply hydrate your face with generous sprays of water. Again, as a thumb rule, never report late to work or report drunk – guests can make out the slur in your voice or the unsteadiness in your walk. So, if you've had a drink too many, call for sick leave & please get thoroughly rid of that hangover before you report to work!
Interaction – Since you are in a guest-facing role, no prizes for guessing that you'll independently have to manage a lot of guests, a vast majority of whom will try your patience. But it's important not to lose any of your patience for, you know, like the bosses have always told you, the guest is always right – more so if its a pregnant lady, a child or a person with special needs or that peculiar species of irate flyers – movie stars & politicians. In your interactions, be polite but firm – if they make unreasonable demands like going on to the tarmac to smoke during a lay over, or carrying in-flight warmers with them, simply say 'You're not permitted to do that'. Again, listen to what they're saying very clearly before taking any action – if in doubt, ask again rather than mess up requests. Remember that the chances of a guest re-booking on your airline is directly proportional to how you make her feel now when she's actually flying you
But all these apart, have you ever been under the impression, like most of the uninitiated masses, that the role of a cabin-crew member stops at just explaining the safety procedures, helping serve the guests, catering to their demands & helping them board & de-board the plane? If so, you couldn't be farther from the truth! For, within the very precincts of an innocuous-looking Airbus or a Being, there is an entire paraphernalia of roles that require a high degree of specialisation to get done. Here's a low-down on the other niche roles that in-flight crew members perform
Enhance passenger experience by giving their practical inputs to engineering teams for ergonomic seat designs which ultimately has the potential to be a product differentiator for the airline. Matters like leg-room, degree of reclining etc. are of utmost importance for such matters. This is more prominent for people who are travelling with babies as they generally prefer the front row which has more leg room and space for bay bassinets.
Coming to food, another differentiator that airlines, more than crew members, routinely ignore – it is common knowledge that the food that's prepared for in-flight consumption isn't exactly fresh but in-fact highly processed. And there's precious little that you can do to help this situation – there are space constraints and other restrictions to be paid heed to. One alternative is to maybe suggest pre-preserved foods like biscuits but given irregular flight timings, it is highly unlikely that guests will have milk & cookies for lunch or dinner
Then, there's another product differentiator – in-flight entertainment (IFE) or the movies & TV shows that play out on the screens fitted to the seat in front of you. They need the in-flight standards & practices compliance for the territory they're operating in and general stuff like air-crash, hijack, blood & gore and generally anything anti-airline etc. that needs to be avoided. Also, in-flight media like magazines and accessories like headphones & remotes that need to be meticulously taken care of.
Then comes the uber experience of duty-free in-flight shopping. As a responsible airline staff, please be thorough with what's available, what's out-of-stock & what can be delivered, know credit card limits and never over promise. Remember, no one likes tall hollow claims and every good guest-facing executive will tell you that the motto should be 'under promise & over deliver'
So, now that you've got the flow, please get about your doing your jobs better than you were until now!